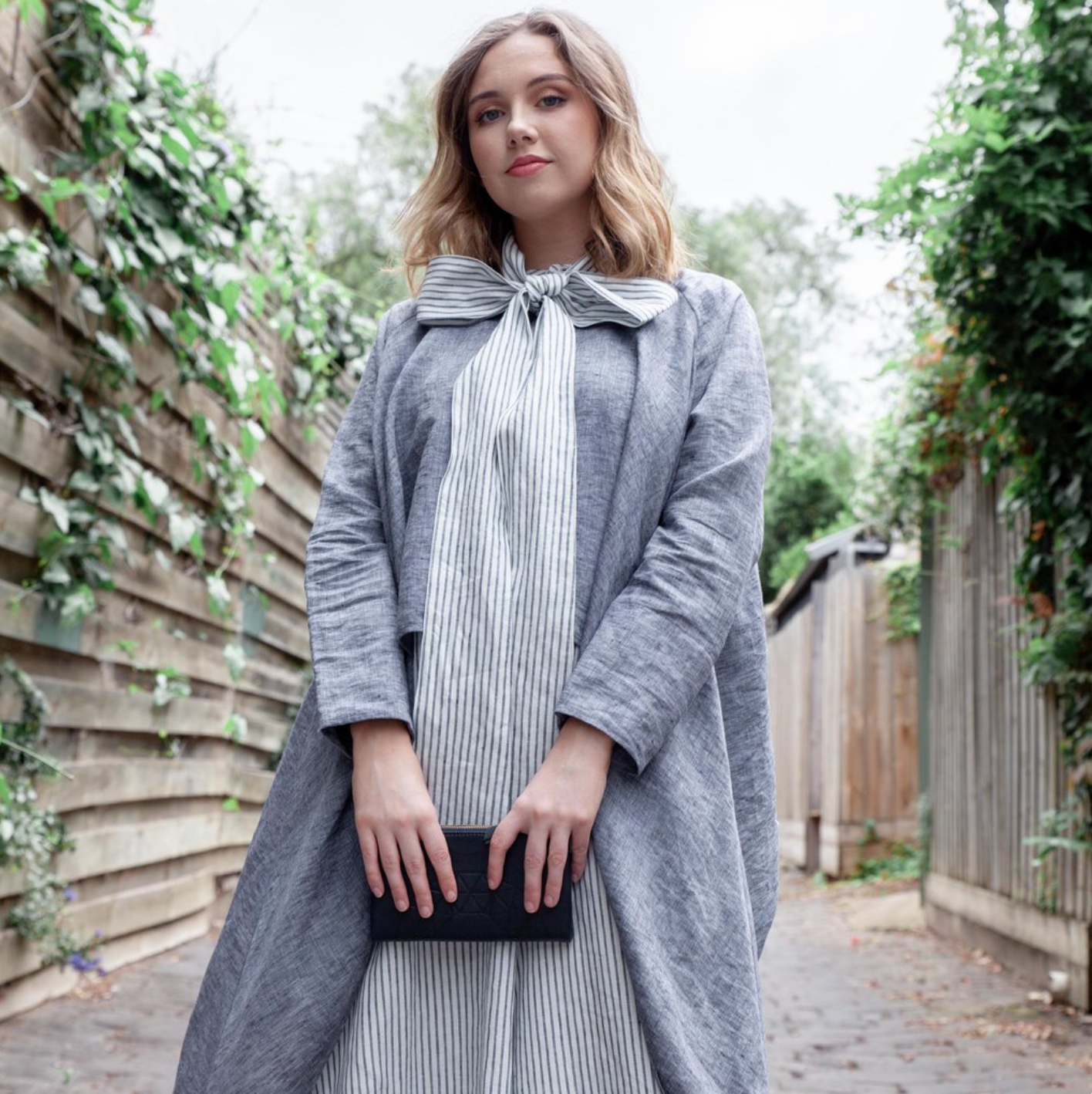 Sunday Styling Sessions
A foundational belief at EVAS SUNDAY is that the intentional layering of individual garments, if done thoughtfully, will create an overall dramatic finished look. Here is a step-by-step guide to a very simple layered outfit. These particular styles are no longer in stock however they explain the concept perfectly. Layer, upon layer, upon layer!

EVAS SUNDAY garments work in harmony together for a couple of reasons. Let me attempt to explain it! First up is the way we build out a colour palette and fabric selection for each range. This is not an easy task when fabrics are sourced from many different suppliers. In fact it's a bit like putting a jigsaw puzzle together. We move fabrics in an out of the line up until we agree upon the perfect combination. This ensure that all garments within the range will mix and match together effortlessly.
The next consideration is how the current range will work back into the previous range. It is critical for us that movement from one collection to the next feels seamless and makes sense. We are not a fast fashion label so our collections need to work together on the rack - in the same way that they need to work together in your wardrobe.
This requires a skilled eye at the fabric selection phase.  It also requires a fluid mindset. It's not unheard of that a fabric may become unavailable at the 11th hour. On the flipside, sometimes we discover a new fabric very late in the planning phase which simply has to join the collection. It's serendipity.
But there's another reason that our garments layer together cohesively. We think about the individual styles as building block pieces.  Each one as a strong seperate in its own right. But the magic really happens when they are bought together.  It becomes a system of dressing. As you grow your ES wardrobe you are adding to the number of building blocks and therefore increasing the number of outfit combinations.  Hopefully that makes sense. I might leave it there for now before it turns into a maths equation!
 Layer 1 | Hannah Jumpsuit in bluestone stripe | Lovely on its own or layered to perfection | Add your favourite linen shirt underneath or over the top.
Layer 2 | The Emili Top in blue mirage | A flowing linen top with elongated sides. Layer over pants, dresses or a jumpsuit.
Layer 3 | the tie belt in bluestone stripe | tie your look together with a matching belt worn around your neck, waist or head.