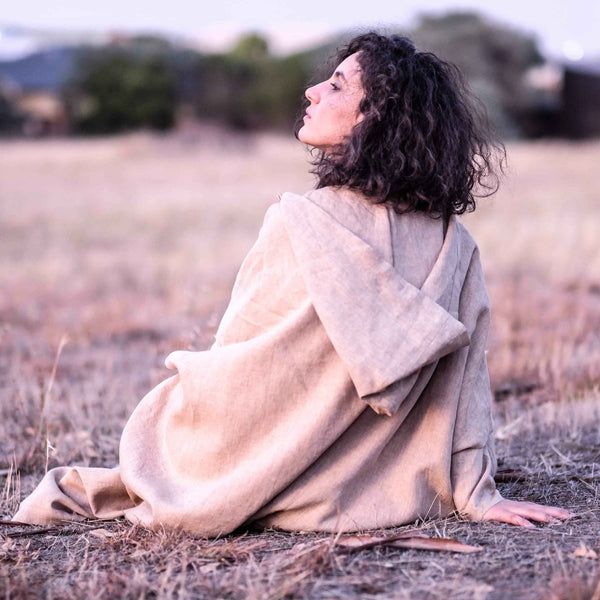 Wearing Linen In Winter
It is no secret that linen is a breathable fabric, making it especially functional to wear in summer. But what about wearing linen in winter? Of course you can. There is no reason at all that your lovely linen garments should be packed away between seasons. This is one of the reasons we describe Eva's Sunday as a transeasonal label.  And by taking a transeasonal approach to your wardrobe the intention should be to shop less, make considered purchases and get more wear out of the pieces in your wardrobe.
Having a transeasonal wardrobe means you need to understand the concept of layering. It's a word that gets thrown around in fashion circles but what does it actually mean? Simple. It means the combining of seperate garments to build an overall outfit that looks amazing from an aesthetic standpoint and is appropriate for the weather conditions in your environment.
Australia's climate varies greatly throughout the eight states and territories. There are four seasons across most of our country and a wet and dry season in the tropical north. But depending on which state you reside in your experience of winter for example will differ. The Melbourne version of winter is nothing like the Queensland version! 
As an Australian designed label primarily worn by Australians & New Zealanders, we must design our collections to suit these different versions of the same season. In other words we need to make sure there is something for everyone in every collection.
I love that Melbourne has four very distinct seasons (and sometimes four seasons in one day!). From a fashion standpoint it means you get to experience all versions of dressing. Using shoes as the analogy its the strappy sandle (summer), to the ankle boot (autum), the knee high boot (winter) then the ballet flat (spring).   
1. Layer your Linen 
Our first tip for creating your winter look is adding layers. It's no secret that the more layers of clothing you have on, the warmer you will be. 
This tip is especially useful in ares with intemperate conditions (like Melbourne, where the weather changes every five minutes!). 
If you're worried about a chill, you can wear a knitted undershirt or a pair of thick jeans and boots with your favourite linen top. Thick base layers (undershirts, tights, and knee socks) look great with our linen pieces. They are designed to be layered and worn in every way. 
2. Long Top Layers 
They key to wearing linen in winter is investing in a high quality jacket. At Eva's Sunday, many of our jackets have 100% linen outers plus extra lining on the inside for cooler weather. 
For example, the Woodsman Cape (pictured above) has a 100% polyester lining. 
Longer outer layers will help to shield you from the wind. 
3. Mix and Match Materials 
Wearing linen in winter doesn't mean you have to wear a full linen outfit. You can pick your favourite linen dress and wear woollen tights underneath and thick coat on top. There's no reason why you can't make a statement with your favourite linen piece and layer it with your warmer winter items. 
4. Accessories Count 
Ever noticed that your if hands, feet, or head are cold, the rest of your body is too? Focus on accessories for these body parts and you are sure to stay warm - whatever material you are wearing. 
Invest in a good pair of knee high boots. Thick boots that cover your legs can be worn with anything and look great with a pair of loose linen pants. 
Thick socks, beanies, tights, gloves, and scarves will come in handy throughout winter. Use these accessories to pad out your linen items so they don't get left on the hanger all season. 
Wool is your best friend. 
Winter with Eva's Sunday 
Browse through our collection of beautiful linen layers today and grow your ES wardrobe. 
Thanks for stopping by!
If you have any questions, please get in touch.