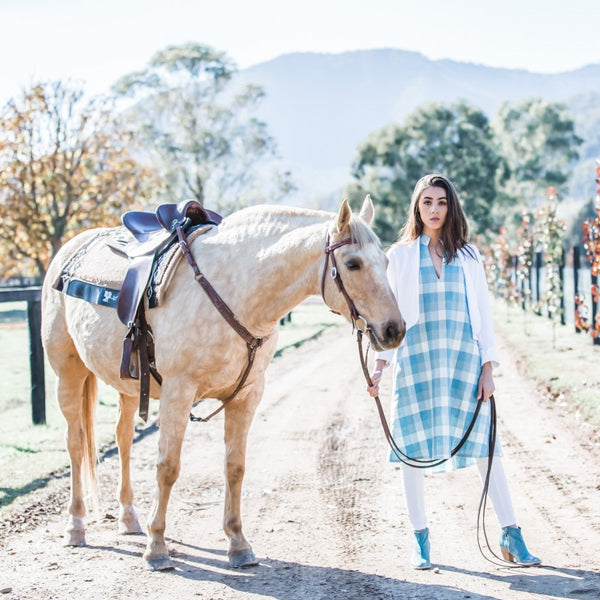 Our Favourite Linen Dress Styles
Our model Ella with Milkshake the horse at Nug Nug Ranch in Myrtleford, Victoria
The right dress can change your mood, make your day, and refresh your wardrobe. Our design team are passionate about delivering linen dress styles that are both timeless and contemporary. Take a look at 5 of our favourite styles and browse through the rest of our linen dresses online to shop the complete Eva's Sunday collection.
1. The Fern Dress
The Fern is your new best friend. She's a great companion for any season - add layers underneath for winter or leave her breezy in the summer. 
The Fern features a relaxed flared cut with gathering in the back to create the signature Evas Sunday easy wearing style. This modest linen maxi dress has bra-strap coverage and and bonus hidden pockets at the side seams.
This beauty comes in Blue Mist Check (pictured above), and Antique Green (a fan favourite). If you're looking for comfort with a contemporary linen twist, this look is for you.
2. The Rachel Dress 
Fresh, floaty, and functional, The Rachel kaftan is one of our favourite linen dress styles. Cinch it at the waist for a fitted silhouette or simply pull it on after a swim - the options are endless. 
The Rachel is suitable for all body types - she's friends with everyone! Inspired by minimalistic Japanese style, you'll turn heads in this understated  dress. 
This garment is available in Ebony Check and Deep Well. 
3. The Lume Slouch 
One of our new releases, The Lume is your go to this season. Completely comfortable, wearable and so flattering the lume slouch dress with its perfect length sleeve is timeless styling for all ages and sizes.
Features include a beautiful "boat" neckline and side pockets with rustic feature buttons. Did we mention this style is reversible & can be worn open as a jacket with buttons to the front or back? Love.
Wear it to the office or out for a weekend brunch. Pair it with your favourite boots and you'll be ready for whatever your day throws at you. 
This 100% linen dress comes in two colours Rock Ridge (pictured) and Raven. 
4. The Salma Dress
This timeless winter dress will make you stand out from the crowd. The Salma is here to add another dimension to your Evas Sunday wardrobe. Featuring deep pleats, keyhole opening and ties. You can wear this dress with the opening to the front or back, to keep your wardrobe fresh. Team your Salma Dress up with a pair of jeans and your favourite winter boots to carry you through the cooler months in effortless style.
5. The Danni Slip Dress 
The Danni is a simple linen dress style with many styling options. This dress is perfect for layering and is a wonderful foundation piece for any linen collection. The Danni looks equally fabulous on its own in the warmer months.
This slip is a fan favourite and new colours sell out quickly. Right now, you can shop the Danni Slip in Misty Rose, Rock Ridge & Ebony Check. 
This dress is designed for a loose fit look. If you need guidance about what size to purchase, or have specific size requests, please let us know!
Best Dressed In Linen
At Eva's Sunday, we are proud to be one of Australia's favourite linen clothing brands. Our 100% linen garments are made to be worn throughout every season. 
Browse through our complete range of women's dresses online now or come and visit us in store for the full ES experience. 
If you have any questions about our linen dress styles, please get in touch with us. We always love hearing feedback from our wonderful customers.