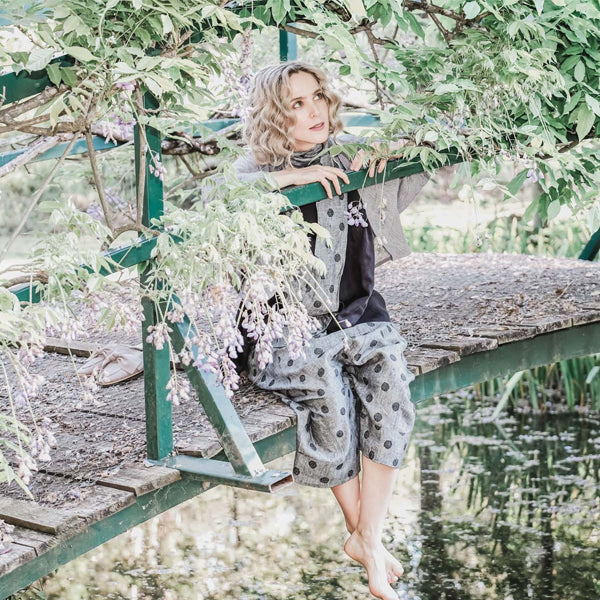 Travelling with linen
At Eva's Sunday, we believe that wanderlust and linen lust go hand in hand. Before you jet off on your next adventure, make sure you pack your favourite linen travel clothes. 
While you're here, make sure you take a look at our new arrivals. If you want beautiful linen clothing, online shopping with ES is simple and stress free. Browse now and have your complete travel wardrobe delivered to your door.  
Why are linen travel clothes your perfect companion? 
There are many reasons why we think this fabric is your best travel buddy. It is an environmentally friendly fabric that travellers have been wearing for thousands of years. 
Aside from looking amazing, here are some other reasons you should consider packing linen on your next trip. 
1. Comfort
A relaxed wardrobe equals a relaxed mind. Enhance your tranquil vacation vibes with loose fit linen outfits that are extremely comfortable. Wide fit pants, tunics, shirts, and dresses made out of soft, breathable fabric will help you wind down and enjoy your time off. Perfect for active or relaxed holiday plans, you'll be ready for anything in a linen look. 
If you want something cute and comfortable to wear on the plane, try a relaxed cut pair of women's linen travel pants with a plain white T. All sorted. 
2. Climate Control
A trans-seasonal travel wardrobe will make sure you're prepared for any climate. Luckily, this miracle fabric is temperature regulating - breathable in hot weather and insulating in cooler climates. It won't stick to you when you're in a humid country and you've had a sweaty day of exploring. It's no surprise that the secret to packing a versatile travel wardrobe is layering. When you layer your clothes, you have more options for different weather, without overstuffing your suitcase. 
At ES, our garments are designed for layering. Mix and match our versatile range for a complete set of linen travel clothes. 
3. Cultural Requirements
There are so many beautiful places to visit - but some of them have religious and cultural standards of dressing. Visit temples, holy ground, and conservative countries without overheating. Pack a pair of long pants and a shirt that covers your shoulders - this way you won't be caught out in an awkward cultural clash. 
4. Timeless Look
We differ from other linen clothing brands with our distinct Eva's Sunday style. Our designers combine neutral tones, splashes of colour, loose silhouettes, and contemporary cuts to create an ageless range of linen garments that won't spoil your memories.
Look back on your adventures fondly - without getting distracted by your outfit choice. Another advantage is adaptability. So many of our pieces can be styled for a casual day of touring as well as an evening out in your favourite city. 
5. Lightweight
If you're worried about going over your luggage limits, this fabric is the right choice for you. Linen can be folded up to take up less space, and won't weigh much in your suitcase. If you're worried about wrinkling, just hang out your clothes the night before in your hotel. Or embrace the wrinkle - it's all part of the fun. 
Take your Linen Travel Clothes around the Globe. Browse through our entire collection and find your new travel staples. Don't forget to share your favourite moments abroad wearing Eva's Sunday and tag us on Instagram! @evassunday #evassunday. 
Got a question about linen? Let us know and we'll cover it in our next blog post. 
- ES x