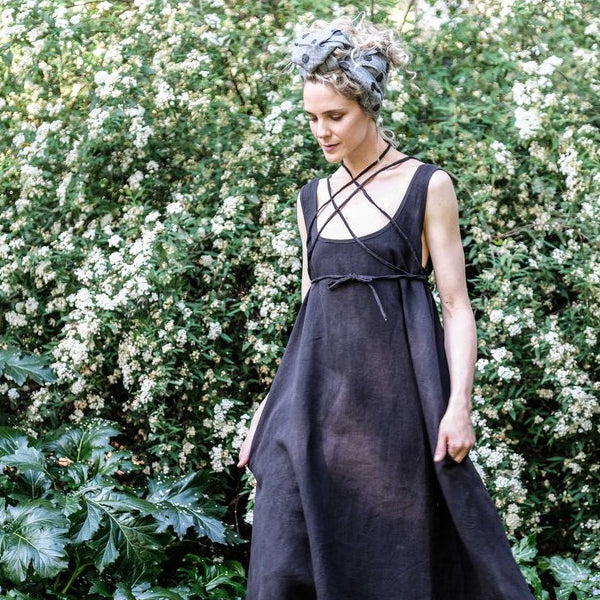 5 Ways to Wear a Linen Slip Dress
It's one of the most versatile pieces in our collection - but the humble linen slip dress can stump even the most confident style guru. If you're feeling overwhelmed by choice, take a look at 5 of our favourite styling options...
How to Wear a Linen Slip Dress
Linen lovers, take note. These are some of our favourite ways to wear a linen dress. Want to share your own linen look? Get in touch and we can feature you on our blog!
1. Let it speak for itself
These days, we are spoiled for choice, but you can always count on the ES design team to champion simplicity. Sometimes the most obvious choice is the best one. 
We believe our designs can speak for themselves - especially in warmer weather. Slip on your dress and let it do what it was designed to do - flatter your figure and let your skin breathe.
In summer and spring, we love seeing our girls rock a linen slip with nothing but a pair of shoes (and maybe a cheeky flower in the hair). 
Don't be afraid of dressing down - there's too much pressure to present a perfect look these days - we're all about comfortable designs that let your beauty shine through.
 2. Top it up
Top up your linen slip dress look by putting a shirt on underneath.
A long sleeve shirt will keep your arms warm and give your slip dress life during the cooler months.
A short sleeve statement shirt can add a pop of colour, or increase the overall modesty of your outfit (depending on your needs).
Simply put, the right shirt will completely change the style of your basic slip. That's the beauty of starting with a simple canvas.
 3. Focus on your legs
Speaking of staying warm in winter, if you've been searching for dresses to wear over leggings, this is a perfect solution. You can pair your slip with basically anything that will keep you warm down below - jeans, tights, or trousers.
We particularly enjoy a pair of matching linen pants. They look amazing with the slip dress and your outfit will blend seamlessly from top to bottom
You won't have to hide your bottom half - in fact you can show it off!
A pair of great pants under a dress means you can be mobile without worrying about a wardrobe malfunction. Chase after the kids, go for a walk in the wind. Do it all in head to toe linen luxury.
4. Tie it up
We know that some people think a linen slip dress might fail to show off their figure. Wrong! All you have to do is style it your way. Pick the areas you want to highlight and style accordingly.
We love cinching our dresses in at the waist for a more tailored look. All of our tie belts are linen too - so your accessory with blend easily with your slip.
There are so many ways you can use a tie belt to change your look - one slip dress plus a tie belt equals endless opportunities.
5. Accessorise
A true ES look wouldn't be complete without linen accessories. Move easily from daytime to evening by dressing up your slip with some matching or contrasting adornments. With plenty of Tie Belts, Brooches, Neckpieces and more to choose from, the possibilities are endless! We can't wait to see what you come up with. 
We hope our advice gave you the style inspiration you needed!
Shop our full collection of linen dresses online now. At Eva's Sunday, we have a complete range of women's linen dresses for every occasion. Simplicity, luxury, and versatility are our specialties.  Spoil your wardrobe with our Australian made, 100% linen garments.
- ES