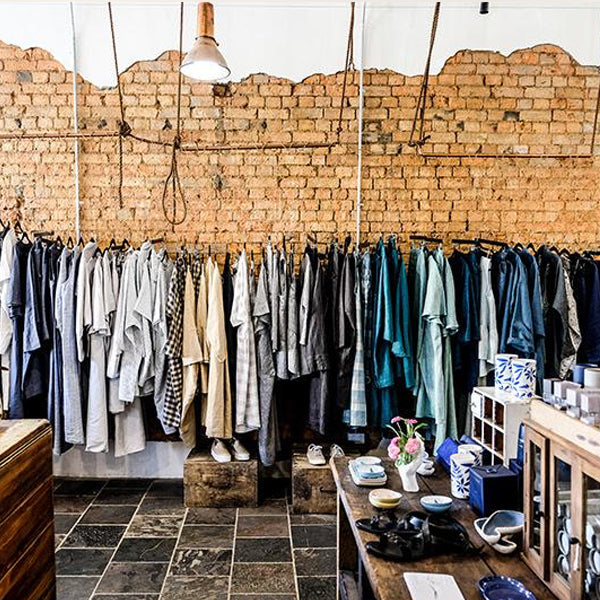 Our Beechworth Store
Welcome to our charming shop front in the immaculately preserved historical township of Beechworth, 3.5 hours drive northeast of Melbourne. Leafy elm and oak trees line the streets of this famous gold rush era town which was first settled in 1856. The main 2 streets are neatly dotted with shops, restaurants and historic buildings such as the old courthouse. It's no surprise to hear the sound of a horse and cart as you park your car in the main street!
The Eva's Sunday store is right in the heart of the town, close to the central roundabout and diagonally opposite the towered old post office which until recently serviced the town for 150 years. Step through our front door for some cosy respite if you are visiting in winter. Remember your woollens and your brolly, we are in the High Country after all and snow does occasionally fall in Beechworth!
Here is the Beechworth store at 83 Ford Street. If you visit, notice the walls.  It took Danni a full week to expose those bricks! Our Beechworth store is currently stocking a handpicked selection from Angus & Celeste, Hip Hip Decay, SOH Candles, Rose & Lyle, Blanc & Nero Candles, the Lovers Eclectica and much mush more.

Our store in Beechworth is open 10am - 4pm every day of the week and you will be looked after by one of our divine team members, Sabine or Brooke, depending on which day of the week you visit.
The little dolls pictured here are made by hand in the ES studio using all the scraps and remnants from the production process - aptly described as perfectly imperfect.
 The restoration of the Billson's Brewery back to its former glory has popped this iconic beer & cordial factory and now whiskey bar and cafe back onto the visitors' map.  The charming brick towered factory was origianlly established in 1865 and went on to become an award-winning maker of ales.  In the last 18 months it has been the passion project of Nathan & Felicity Cowan who have relaunched the business with its original name and just last year released its first beer after a 70 year hiatus. This is a really nice way to wind up the day. There is also a cool barber shop and a carriage museum on site! 
Built in 1858, the Telegraph Station is one of several beautifully preserved Gold Era buildings in Beechworth. From this station, acting like the internet of its day, news of the famous Kelly Gang siege at Glenrowan was transmitted.  Speaking of Ned, your trip to Beechworth must include a visit to the Beechworth Gaol.  There are alsoNed Kelly walking tours daily.
We love that the ES story includes being part of this rural town and region whose natural beauty and picture book backdrops change with the seasons. It certainly provides a never-ending stream of settings for our website & marketing imagery. Pictured below is one of our favourite photo shoot locations - many of you will recognise it from our earlier campaigns.  This facade, in Church Street Beechworth, is all that remains of the former Ovens District Hospital built in 1856. It's grandeur and scale reflect the optimism and vision of the gold rush period. Today, we love it for it's austere, cardboard cut out simplicity and reminder of the regions rich history.