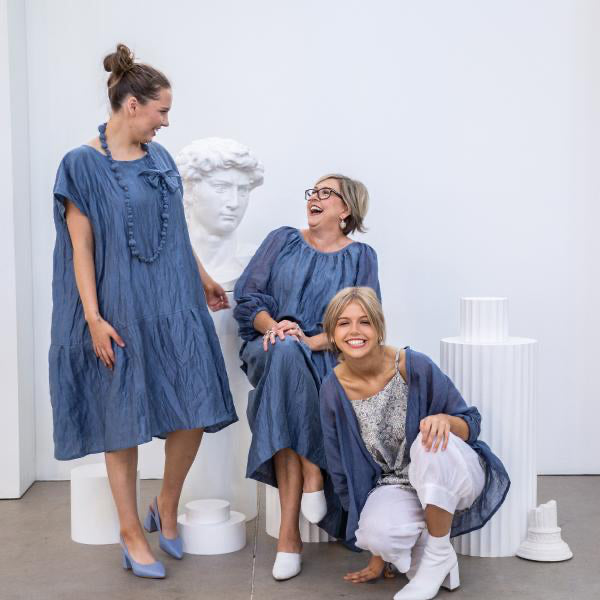 New Periwinkle Collection
Liberty, linen & silk, oh my!
 Introducing six new designs, a very special selection of fabrics & delicate handmade accessories to match. 
Designed & made for you in Australia, with love. x
Made with luxurious Periwinkle linen, gauze & crush milled in Italy.
The Establishment Studios in Fitzroy provided the perfect backdrop for our Periwinkle photoshoot.
"Lively blue tones in a range of textures."
Our beautifully soft 'Periwinkle' linen is the perfect base for our new range with matching 'Periwinkle Gauze' and 'Periwinkle Crush' adding luxurious texture & dimension.
Mirage Storm is a perfect blend of periwinkle woven with black to create a striking navy. With two stunning Liberty prints & a touch of silk, we have dreamt up a seamless colour story that can be effortlessly incorporated into your existing ES wardrobe.
- Kenya & the Design Team
After months of hard work behind the scenes designing and preparing this collection, we were so excited to watch it come to life on our (six!) gorgeous models. 
We had a ball creating new backdrops for each look using the stunning collection of props available.
See the results below...
Meet our latest linen layers
Don't forget a handmade accessory to match...

Spend $500 to receive free express shipping for your order. x