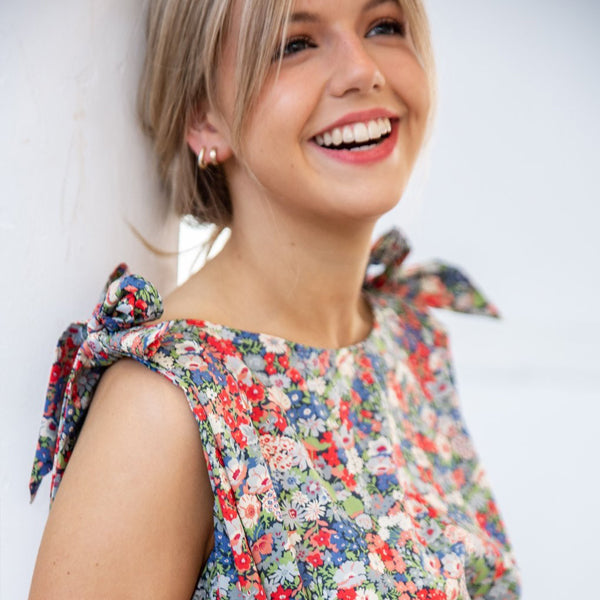 Liberty of London
The unique beauty that can only be Liberty of London
A pattern of timeless treasures...
The special thing about Liberty of London is its intricate link between art and fashion.
​It is the rich and engaging tradition of Liberty that has stood the test of time. It is not merely a name synonymous with a distinctive range of fabrics, Liberty is recognised around the world as a true icon. 
How has Liberty of London been able to sustain such an esteemed and inspiring quality?
The secret lies in its ability to constantly evolve without ever losing its elements of style. The Liberty range has always enjoyed a colourful history and it is one that can still be enjoyed to this day.
The gorgeous glory of the Liberty of London story
Liberty has always had an eclectic and fashionable sense of design since its first opening in 1875.
From its humble beginnings by leasing a half a shop at 218a Regent Street with three staff members, Liberty began a long tradition of innovation and evolution.
Shortly after opening, Arthur Liberty printed the very first Liberty fabrics.
He once famously said: "I was determined not to follow existing fashion but to create new ones." This underlying theme has been followed by Liberty of London ever since.
By the mid 1880's, the store had grown in renown and became the most fashionable place to shop in London. The clientele included some of the famous Pre-Raphaelite artists of the time and Liberty fabrics were soon being used for both clothing and furnishings. 
During the 1890's, Liberty began forging special relationships with many leading English designers. Liberty fabrics soon became a byword for the ultimate in beautiful avant-garde textile designs.
The coming to life of 'Liberty prints'
Liberty had built their reputation on importing only the finest oriental fabrics, but as demand grew for luxurious fabrics, Liberty began to import undyed fabrics which they hand-printed in England.
Liberty's partnered with William Morris, who designed some of Liberty's best-known and most recognisable prints. 
It was in the 1920's that the intricate small floral, paisley and abstract designs were born and became the highly praised 'Liberty prints'.
The dawn of the exquisite Tana Lawn
The world of textiles was changed forever when the Liberty buyer, William Hayes Dorell, discovered unusual cotton fibres close to Lake Tana in Ethiopia. Full of inspiration, he took them back to England where these special silk-like threads were carefully spun into a lustrous form and then screen printed with brilliant ink.
The lightweight, semi-sheer, soft yet durable qualities made it the perfect canvas for Liberty's most famous prints. It is still an iconic and heavily prized material that hardly feels like it touches the skin.
The marriage of the highest quality fabrics with the very best in design is matched by the fusion of fashion and art. This has always been a cornerstone of the beautiful patterns at Liberty of London.
Over the years, many of the world's best designers have used Liberty fabrics. From Cacharel, to Jean Muir (who actually worked at Liberty for a time), Mary Quant as well as Yves Saint Laurent and Vivienne Westwood.
A pattern of continued success
The pattern designs of Liberty are still a special mix of imagination and inspiration. 
Liberty Fabrics now boast an archive of more than 50,000 prints. The in-house studio still preserves the passion for art and design excellence by creating artworks that are painted and drawn by hand.
Around 50,000 metres of Liberty fabric is produced per day, all printed in Como in Italy, using both traditional screen-printing techniques and modern digital printing. The entire custom-made process has a team of skilled technicians who oversee an annual production of over 150 different designs.
A Liberty of London fabric pattern remains unique in its ability to be both fashionable and timeless. Quality is something that will always stand the test of time. In the case of Liberty, the reputation rests on the quality of the fabric, the print and the quality of each gorgeous design.
A Liberty of London fabric pattern or garment is in many ways the opposite of 'fast fashion'. Liberty prints continue to be reinvented with an ability to stay on trend yet retain their enduring style.
The freedom to enjoy a Liberty of London design
The unique beauty of a Liberty of London pattern gives you the means to explore your sense of style.
There are special offerings from Liberty now available at Eva's Sunday in the form of;
Tops – such as the Mao Trapeze, Mila, Kira Box, Dolly and Edith designs 

Mini ties and face masks

Flower Brooches and hand-formed beaded necklaces

Handkerchiefs and pin cushions
Oscar Wilde was such a devoted fan of Liberty of London that he remarked, "Liberty is the chosen resort of the artistic shopper." You can take part in that fashionable art with help from Eva's Sunday.
We are proud to offer stunning designs from the Liberty of London world to you. And remember, if you have any questions, just get in touch.
 The fabulous @lynda.gardener wearing our new Leonie Top in striking Liberty Capel (coming soon!).