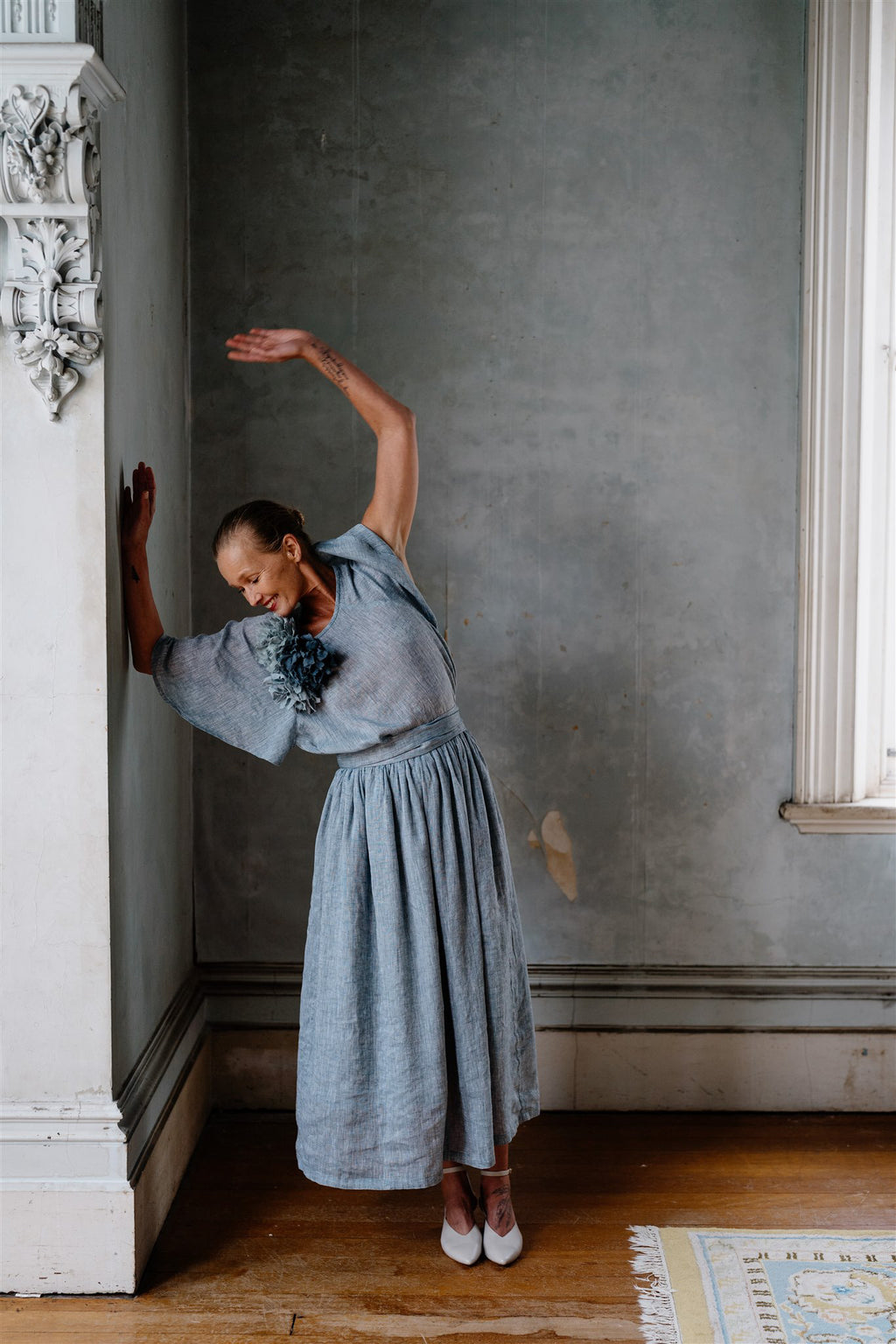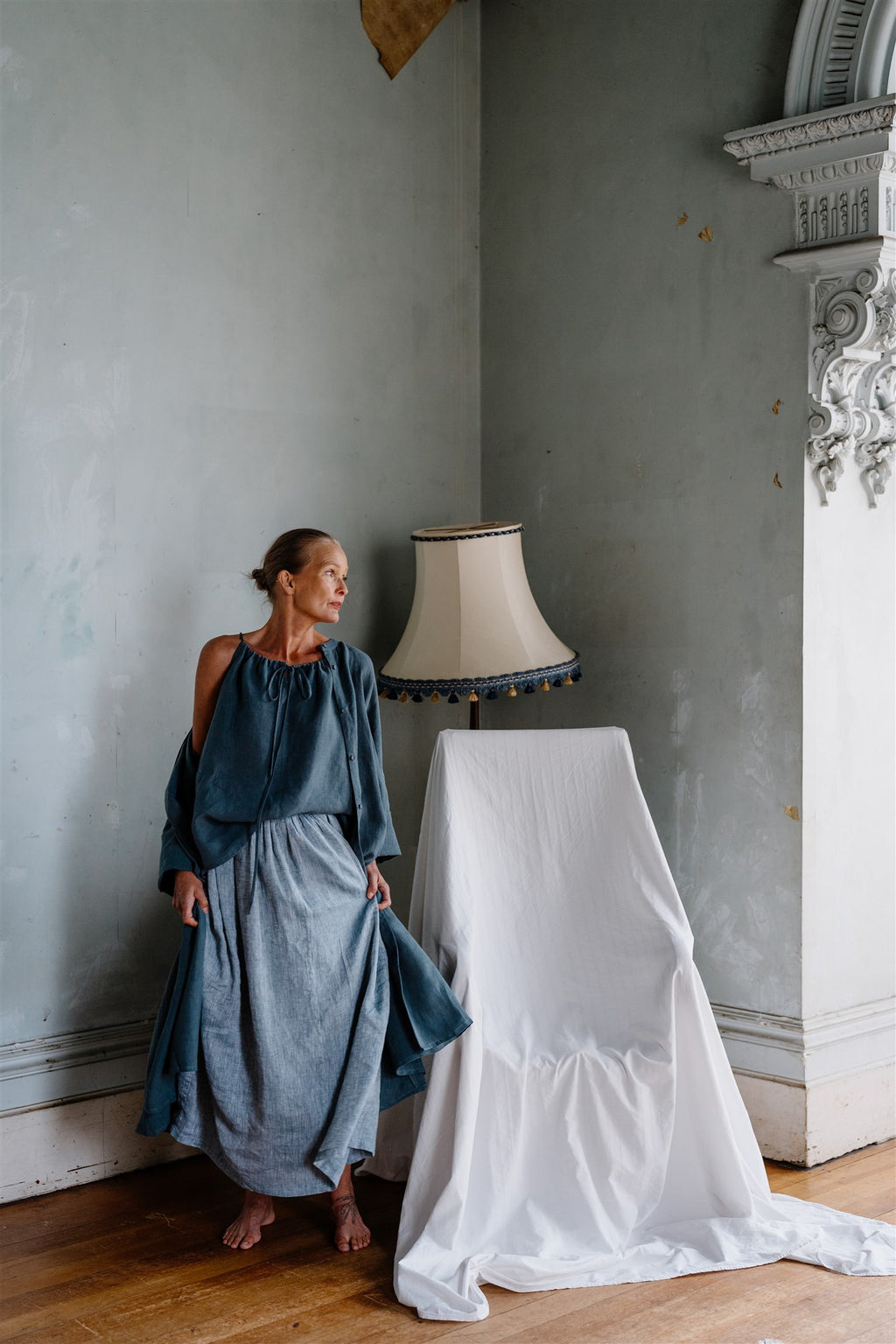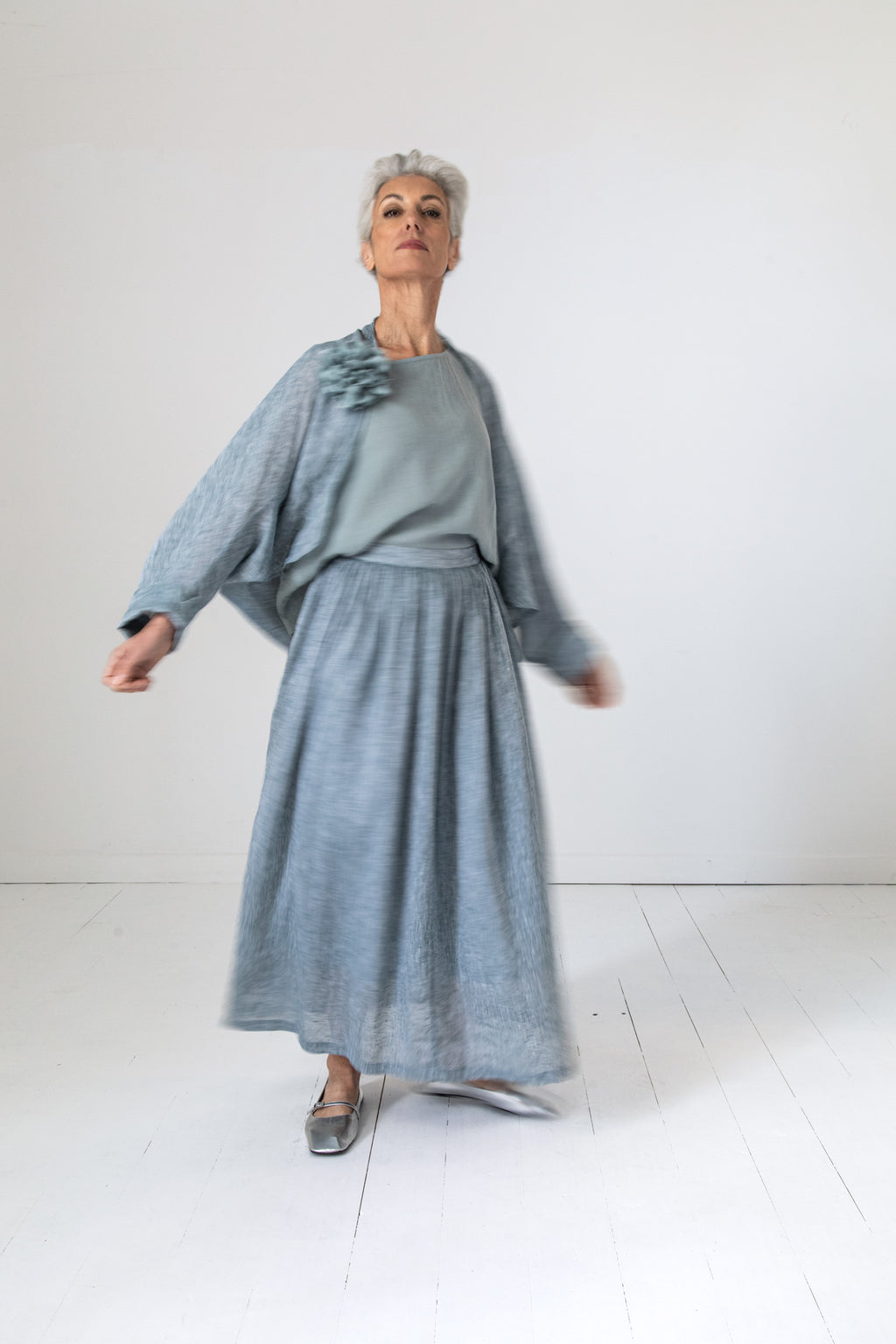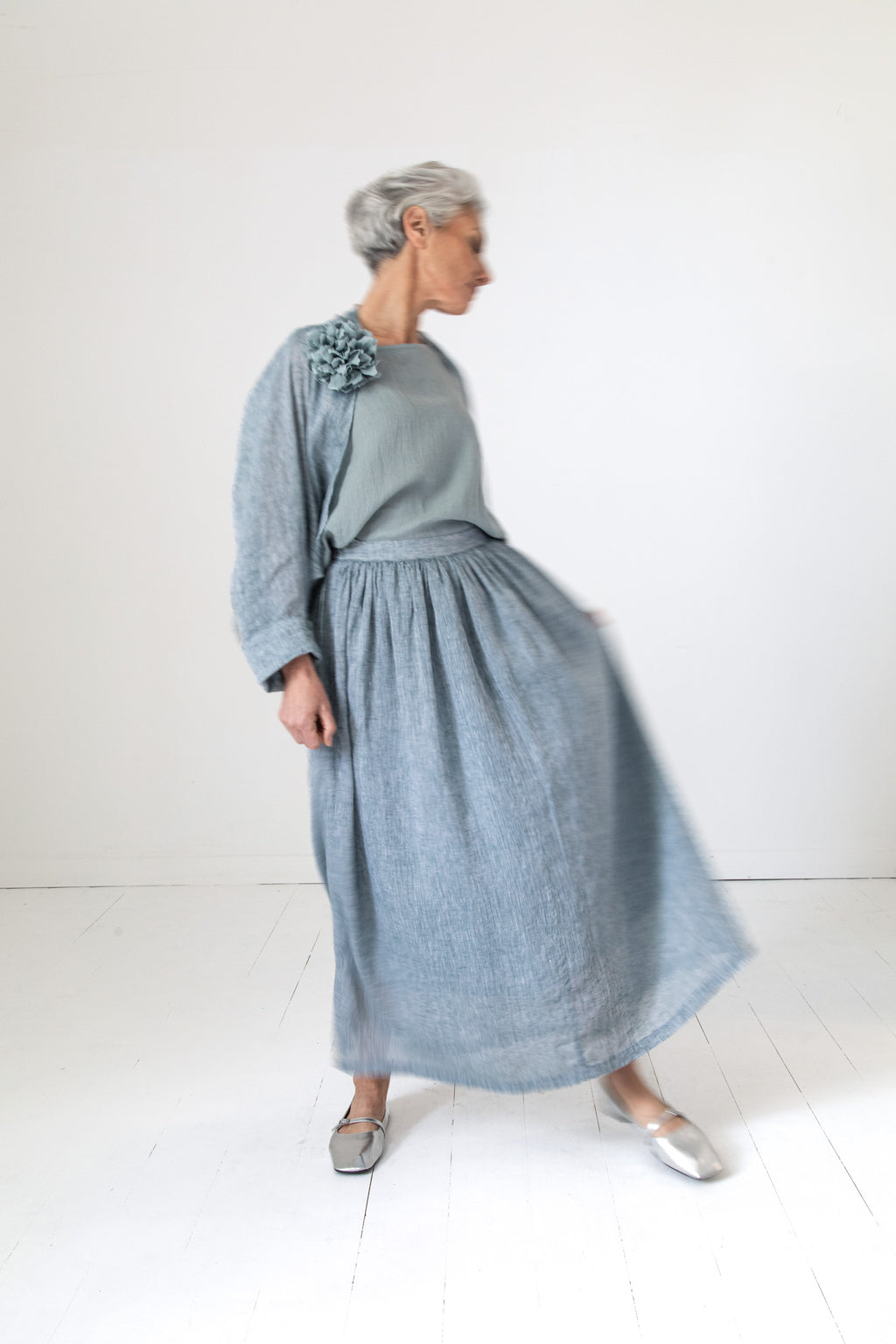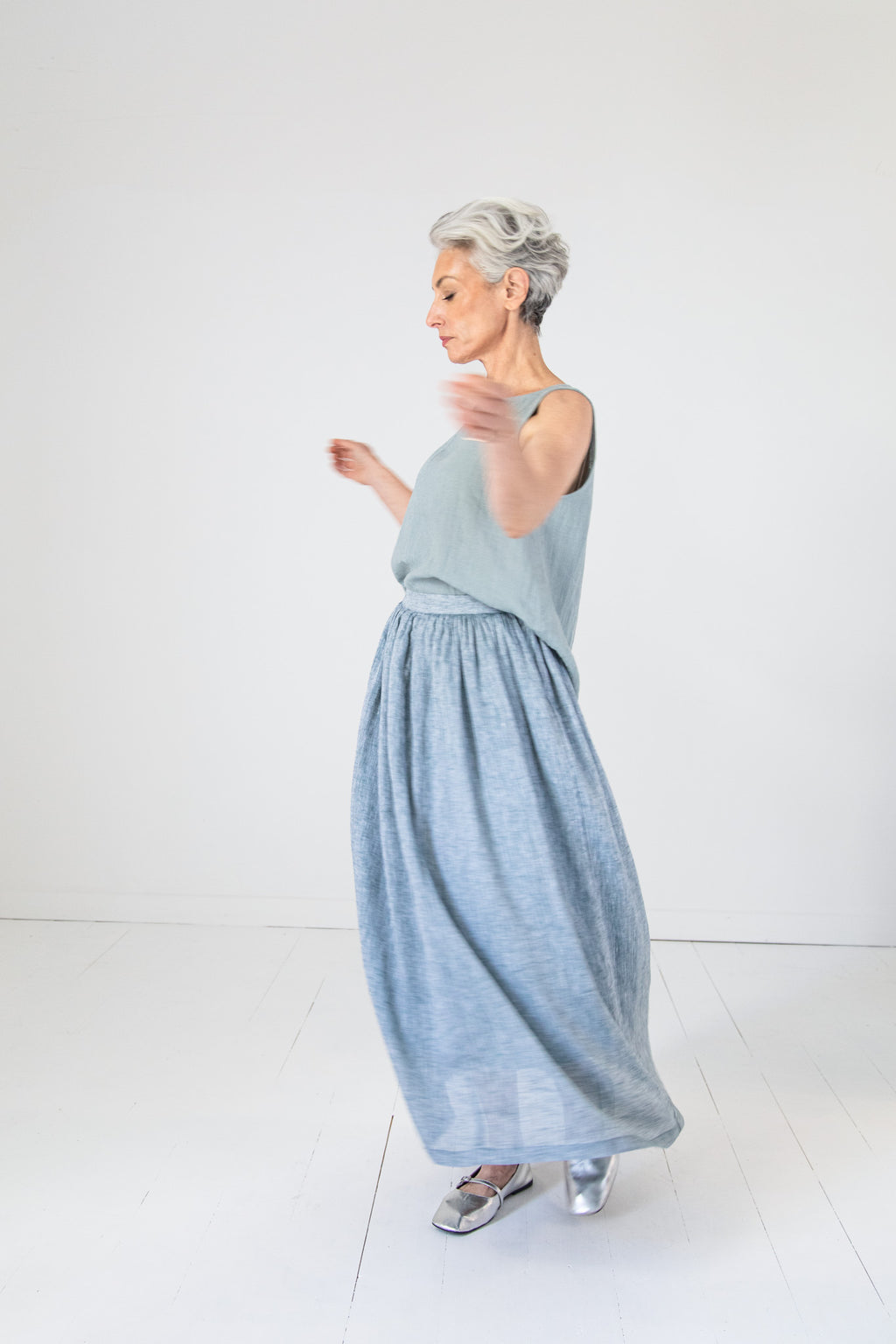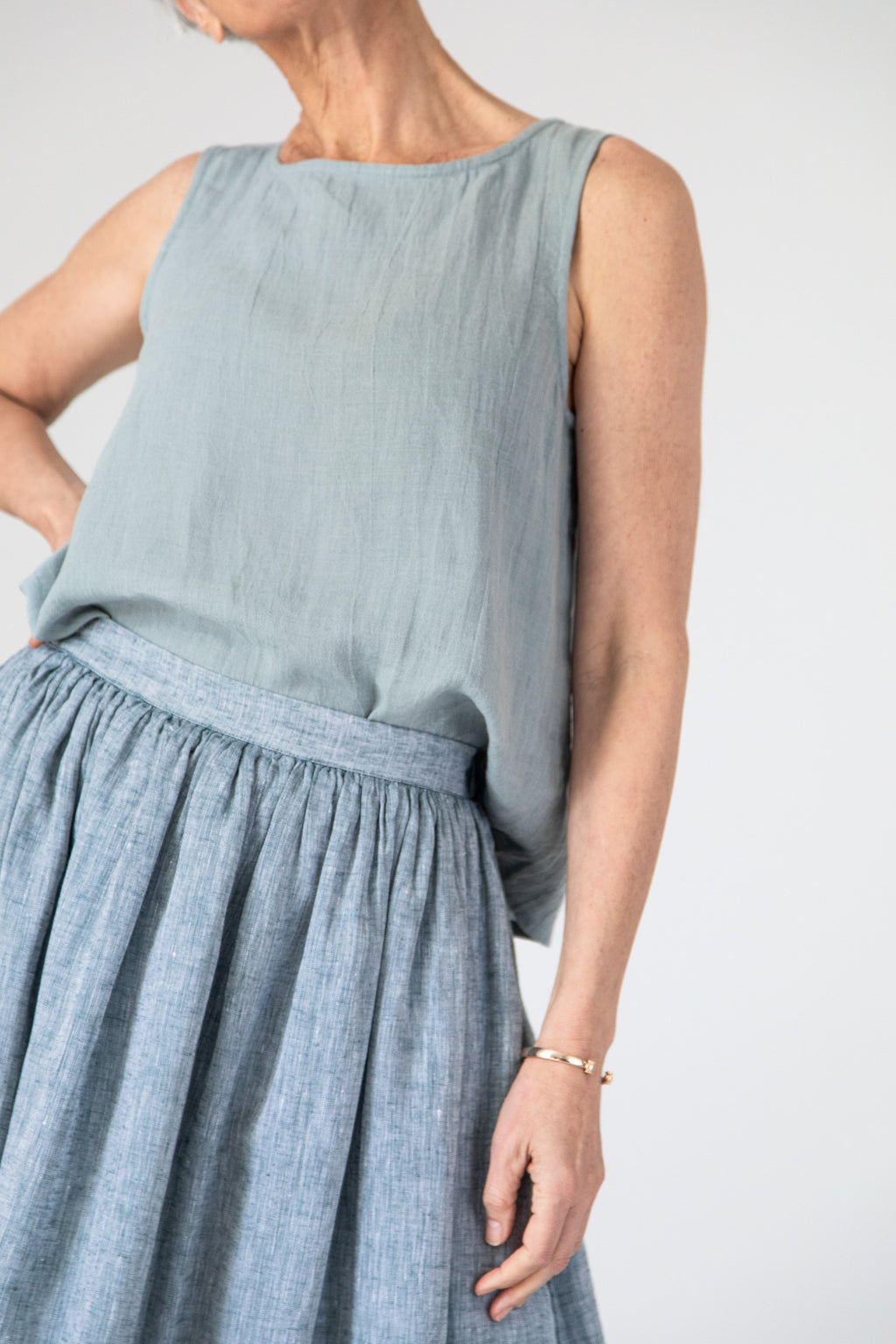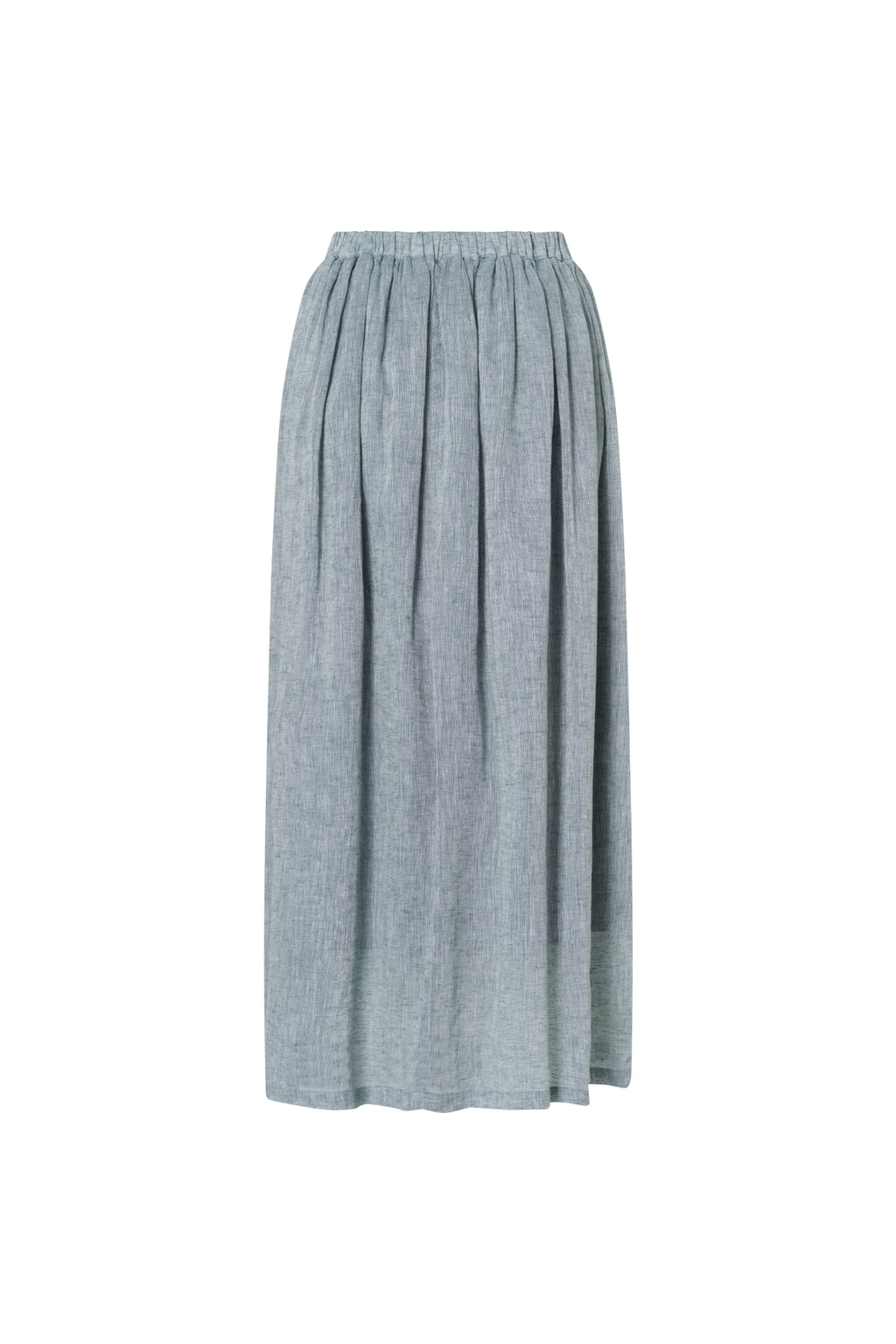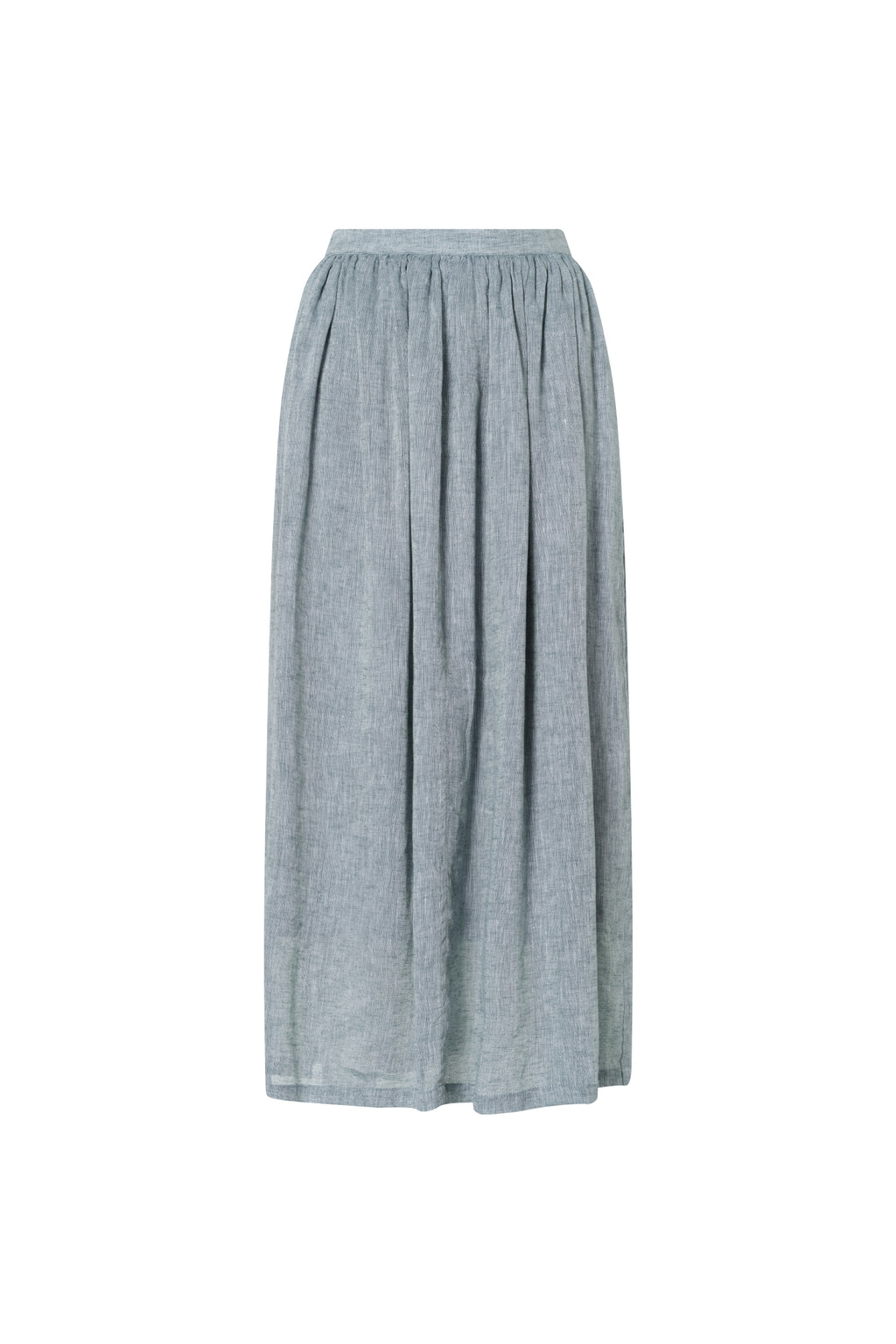 Stella Skirt | Mineral
Available in 4 interest free payments of
$84.75
fortnightly with Afterpay. Learn more.

More info
Details
The Sloane Collection Stella Skirt in Mineral is a classic soft gathered skirt style with a flat front waistband and an elasticated back waistband. The skirt is lined in a fine seafoam-colored cotton. This skirt does not have pockets (due to the gauzy weight of the fabric). The Stella hits at ankle length on most but of course, this is height-dependent so please refer to our detailed measurements. Stella is a truly elegant skirt, suitable for dressy occasions.

Details
This garment is part of the Sloane Collection
Natural fibre / 100% Linen / 100gsm / lightweight
Fabric Description: 

 a lightweight linen gauze in a weave of teal & white giving a soft marled effect. An ideal fabric to twist & wear with a crinkled effect. This fabric has been designed & developed in collaboration with Eva's Sunday for our exclusive use.

Shop all garments in MINERAL at this link

Designed in Melbourne, Australia

Made in China

Outfit Inspiration: (Look One) Mette is wearing the Stella Skirt with the Masie top & a cluster of 3 Fabric Flower Brooches (Look Two) Mette is wearing the Stella Skirt with the Petunia Top & the Roma Jacket in Jasper (Look Three) Mette is wearing the Stella Skirt with the Petunia Top in Jasper & the Brooke Bolero in Mineral (Look Four) Katie is wearing the Stella Skirt with the Asher Singlet in Jadeite Crush (coming early December 2023) & the Brooke Bolero. Her fabric Flower Brooch is Jadeite Crush (Coming early December 2023).

Garment fit: True to size
Our model

Mette is size 8 and 173cm tall; she is wearing the XS. Katie is size 8 and 169cm tall; she is wearing the XS.

Studio photography by Morgan Wates / @blessedpixels
Location photography by Nick Skinner / @nickskinnercreative
Key Measurements
Eva's Sunday values size inclusivity.  We cater for women around size 8 - size 20. Depending on the fit of the garment these parameters change slightly. Please refer to these precise measurements and our size guide.


Waist Circumference (relaxed)
XS 66cm /  S 74cm /  M 82cm /  L 90cm / XL 98cm

Waist Circumference (stretched)
XS 89cm /  S 97cm /  M 105cm /  L 113cm / XL 124cm

Length from Waist
XS 93cm / S 94cm / M 95cm / L 96cm / XL 97cm 

Hem Circumference
XS 198cm / S 206cm / M 214cm /  L 222cm / XL 230cm

Hip Circumference
XS 198cm / S 206cm / M 214cm / L 222cm / XL 230cm

Size Guide
Care Instructions
We recommend that you follow these simple guidelines to care for your Stella Skirt:


Wash with similar colours
Turn your garment inside out to reduce friction on the right side
Use the gentle or hand wash cycle on your washing machine
Wash in cold or lukewarm water
Use a mild detergent such as a wool mix - do not add a softener
Give your garment a shake out and dry on a hanger, avoiding direct sunlight
Do not tumble dry
Iron inside out using the linen setting on your iron OR
Embrace the wrinkles and don't iron at all - this fabric is very suitable for twisting & wearing with a crinkled efffect.
Shipping
We ship worldwide. Your order will be packed within 3 days and shipped, Monday to Friday, through the Australia Post network across Australia. International deliveries will be shipped via DHL. You will receive a tracking notification via email. For shipping rates and more information please visit our FAQ Page at the bottom
Returns Policy
We provide refund, credit or exchange on full price merchandise within 14 days of the date that your order arrives with you. Sale, promotional & gently worn garments are eligible for credit or exchange only. To arrange a return please email customercare@evassunday.com.au For more information,
click here.

Need some help? 


If you are new to Eva's Sunday and require assistance with sizing please call or text us on +61 472 730 424 7 days per week 9am-5pm or message us via our online chat system at the icon in the bottom right-hand corner of your screen.