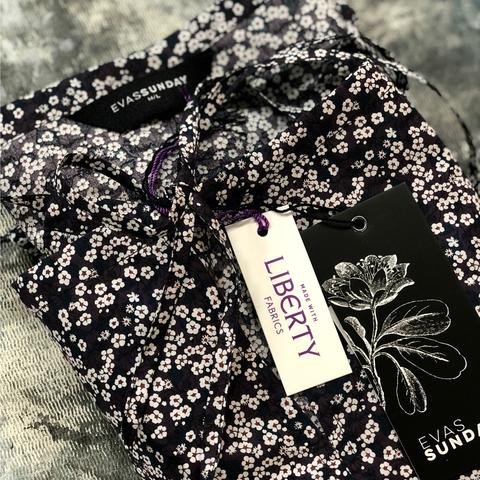 ES loves Liberty of London
This journal article was first published in June 2016.
The Peony Collection marks the beginning of a lovely friendship.  Danni & I have had an ongoing obsession with Liberty of London fabrics since the days of my very first label, NICMAC, where we embellished literally thousands of white t-shirts with the iconic floral designs.  Well, it has come full circle. 
We have used the Mitsi Valeria print, a small version of the Liberty of London Classic design 'Mitsi' (the original being designed by Gillian Farr a studio member of the House of Liberty in the 1950s) in a beautiful summery new top style called Petunia. This top has been produced in very small quantities so don't think about it for too long or you will miss the chance to own one.
The fabric composition we have used is the most famous of all of Liberty's fabrications, the 100% cotton tana lawn, its hand-feel and translucent softness making it a versatile favourite.
Danni & I visited the famous Regent Street London store earlier this year.