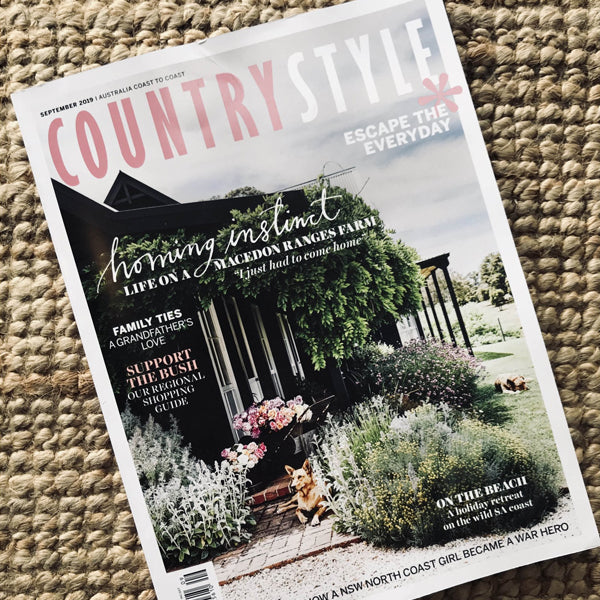 ES + Country Style
A  C L A S S I C  C O U N T R Y  S T Y L E   S U C C E S S  S T O R Y
(Published September 2019)
Making it in the fashion world is never easy. It takes dedication, passion, long hours of hard work and a little something special. Eva's Sunday is proud to have all that rewarded wth a special article in the latest edition of high-profile fashion magazine 'Country Style'.
Being a successful local designer of quality women's linen clothing is one thing. Being a true local success story just adds to the magic. It is interesting to read the journey of how these two sisters from different backgrounds, then come to join together in creating something truly special and truly their own.
Danni Townsend-O'Neil had moved to Myrtleford with her husband Dave and their two sons a decade ago. She was running a unique store - The Vintage Goat. It was an unusual enterprise that expressed her love of vintage and classic design... and goats. The turning point came in 2016 with the store closing. This was when Danni's true love - fashion - found a life of its own. She and her sister Nic MacIsaac decided to take over a fledging women's label called Eva's Sunday.
Today, the brand is a dynamic collaboration between Danni, living in picturesque Myrtleford and Melbourne-based Nic, who is able to use her business background and business savvy. It doesn't hurt when you have all that with a little design and fashion sense thrown in. As CEO, Nic takes care of the business management and marketing for Eva's Sunday. 
Nic: "I was a milliner for a while, and I imported pashmina shawls. I also had a business called Magnolia Square, supporting creative talent and giving a platform for people to showcase their creativity."
Like the signature fashion of Eva's Sunday itself, it was all about things coming together. Nic bought out Eva's Sunday - originally started by another designer - and the sisters pooled their talents. Danni had already been designing for and selling ES designs at her former store, so it all made sense. There was a certain serendipity about the birth of their new enterprise. 
A renovated old hardware outlet became Danni's industrial-style design studio in her beloved Myrtleford. She transformed what was a fluorescent green interior into a moody artistic canvas for her creativity. 
Danni: "It's great to have a beautiful big space like this in Myrtleford."
It's no surprise that the clean lines of the designs are a hallmark of the label. Danni works with only the barest essentials like a single sewing machine in the studio. That flow of energy that runs through her design work and captures her own inspirations. Danni is not only the creative director for the label, but the aesthetic coordinator, stylist, collection photographer, editor and videographer.
Nic: "She's the sort of woman who puts up walls and takes them down, puts up lighting, and gets up there with a drill and hammer. She not only designs the collections - she shoots them too."
The collections utilise natural fibres, hence the use of luxurious linen. These are classic designs that don't date and, like the sisters themselves, work well together. The sisters make a point that their label is about style with longevity. 
Nic: "We're very anti-fast fashion and the original concept was linen: that's what attracted Dan's eye in the first place. We believe fashion is not something you need to update every few weeks."
Eva's Sunday offer tasteful and timeless pieces that have a special place in your wardrobe. The colour palettes are specifically chosen so they work in harmony.
Not all families can work together, but it's clear that these sisters have something special, something that helps them thrive in each other's creativity, skills and feeds their shared passion.
Like sparks of inspiration, the sisters fire off each other.
Nic: "We live and breathe Eva's Sunday. Every day I'm blown away by Dan's ability. I love working alongside her as she has more energy than anyone I know."
Danni adds: "Nic & I have always dabbled in little things and helped each other out at times. It's really nice to be working with her now."
Eva's Sunday has grown from what was solely an online store; to four retail stores; one in the historic town of Beechworth, two in Melbourne and the newly opened outlet in Albury, NSW. Of course, there's the Myrtleford studio where each design begins.
- - - - - - - - - - - - - - - - - - - - - - - - - - - - - - - - - - - - - - - - - - -
[Postscript : Since the publishing of this story there have been a few changes for Eva's Sunday. The Covid-19 pandemic forced the closure of 3 of our boutiques ... Albury, Hawthorn and our original store at 181 Brunswick Street Fitzory and our Myrtleford Studio.  We are extremely grateful that our store in the beautiful township of Beechworth weathered the storm. 
We are however very happy to say that our label survived the pandemic and we have established a lovely studio at 95 Victoria Street Fitzroy.  Our studio is also home to a store area that our customers can visit Monday-Frtiday 10am-5pm and Saturday 10am-3pm.  Please direct any enquiries to Nic MacIsaac at 0419 159 732].
Article: Country Style | September Issue, 2019
Words: Virginia Imhoff | Photography: Marnie Hawson